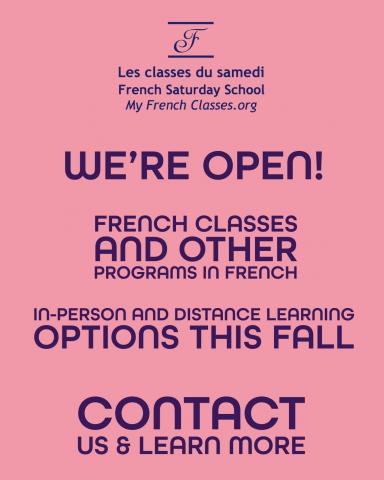 ---
Road map for the next school year
Framework
We have spent the past few weeks reviewing with our team our performance and the progress of our students during the past year.
We also took the time to discuss with many of you to better understand your expectations for next school year and take into account your comments regarding our remote classes during the confinement period.
Additionally, we have tried to developed a plan based on the latest scientific studies regarding the education of children during the COVID-19 outbreak and the experience of foreign school systems that have already restarted in person learning.
Our main objectives for the 2020/21 school year are:
maintain normalcy and continuity in academic progress for all our students,
continue to improve and enrich the remote learning experience,
hold in-person classes as often as possible, but only when it is safe,
improve the school's online infrastructure, especially through a major upgrade of the Members parent portal,
maintain our low hourly tuition to high-quality education ratio, with no significant tuition increase this fall.
The plan developed is:
1. flexible, so that we can adapt quickly and easily to changes that will result from the prevalence of the virus in our region,
2. individualized, in order to offer options adapted to the different needs of our diverse pool of students.
3. adapted to our structure,
we will follow the directives of the authorities regarding indoor gatherings in public places and other sanitary rules,
but our constraints being very different from those of the large public school systems of the region we will make our decisions independently, taking inspiration from but not being constrained by the choices made by Montgomery Public Schools for example,
---
Organization plan for next school year
In this context, we have prepare the following road map for next school year:
1. if schools are allowed to reopen next school year :
our objective will then be to start offering as a priority in-person learning by respecting the following rules:

systematic temperature checks for each member of our team and for each student,
mandatory mask or face-shield wearing (we have already bought protective face shields for all our students for example),
strict limitation of the number of students per class in order to allow for social distancing,
welcome of children at the outside doors of Ste Jane de Chantal school to avoid unecessary gatherings inside the building,
increased cleaning of the premises during the day and regular hand washing for our students,
rotation system for recess to prevent students from different classes to mix during recess,

for students who do not wish to return to regular in-person classes during this period or alternate between in-person and online participation, we will offer:

for most levels, the option of choosing a distance-learning class reserved for children of families who have made this choice of virtual education,
and, in certain limited cases (in case there is not a sufficient number of students in a level to offer the choice between two options, one for in-person learning, another one for distance learning), we will equip our teachers with the necessary material to organize "hybrid" classes, which allow students to receive face-to-face instruction while at the same time other students attend the same class remotely,
special training and dedicated computer equipment for the teachersso that the online and in-person participation is equally engaging.
2. if schools at any time during the school year are no longer allowed to operate in person:
we will then switch all of our classes to distance education,
based on our experience with this mode of teaching last Spring and during the remote summer camp, we will adapt this distance learning classes to the age and level of French of the children (offering for example in some cases the possiblity to spread distance education over two days of the week),
we will also continue using a whole range of additional and improved tools adapted to distance learning,
and we also plan to offer each week additional supervised study for homework options to further assist our students during this period of distance education.
---
The allocation of students between morning and afternoon will take into account:
the preference expressed during registration,
the enrollment date (first come-first served),
the fact that the number of students per class will have to be reduced in order to allow for social distancing in the event of in-person classes,
the offering if possible of two learning options per level, one online, one in-person,
alternating between in-person and online participation in "hybrid" classes if warranted for social distancing,
the number of years enrolled in the classes per family as an earned reward for loyalty and commitment.
Registrations
Please register as early as possible via the online registration form.
On this form, you can indicate your preference for either in-person classes or distance learning classes.
---