Classes for Children With an Intermediate Level in French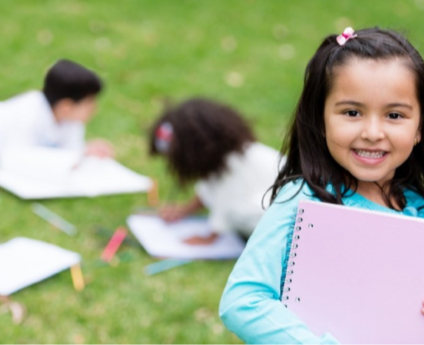 ---
Our intermediate classes are structured for children who have had previous exposure to or instruction in French but are not at the present time fully bilingual.
The goal of these classes is to boost the students' level so they can catch up and later join our more advanced classes.
These classes have a special emphasis on the development of oral and listening skills and self-expression. This lays the groundwork for advanced writing skills and cover grammatical areas that are appropriate for each age group.
Programs of our Intermediate French Classes
Our curriculum aims to:
develop oral proficiency through reading, movies, songs, drama, exercises of vocabulary building,
develop ease, fluidity, and efficiency in oral expression through class discussions and specific assignments,
help students learn selected grammatical structures and spelling rules in close coordination with topics and activities taught in class,
provide a broad introduction to French and Francophone culture, literature through the study of short stories, poems and excerpts from novels.
How are our Intermediate French Classes Organized
The intermediate classes are taught by professional Francophone teachers who are specialized in teaching French to children who are not yet fully bilingual.
Classroom activities are varied and focused on acquiring all four language competencies (listening, speaking, reading, and writing) in a full French immersion environment.
Classes are organized by age groups and are offered to children from Pre-Kindergarten to 8th grade.
More Information Regarding our Intermediate French Classes
Please visit our registration page here, to process your registration online.
For all questions, please do not hesitate to contact us.